LOS ANGELES aTTraCtiOnS
L.A. - home of the attraction. I don't think that any other city can define attraction nearly as well as Los Angeles. L.A. by far offers the most unique assortment of attractions of any city in the United States. From Disneyland to Venice beach, L.A. can keep a tourist very well busy for many days. Besides L.A's Museums, here are some of L.A.'s more popular tourist attractions:
Venice Beach
MUST SEE! this place is by far the best non themepark attraction in California, especially for liberal fanatics! On an average day, 160,000 people come visit Venice Beach, which has everything from a mile long Oceanfront walk filled with shops/displays selling everything from beach clothes to colorful paintings to tattoos to even palm readers, on-site massages, and things beyond wierd!, to a pedestrian street that passes by venice beach with bikers, rollerbladers, joggers etc... to many street performers that perform around the boardwalk doing crazy things from juggling chainsaws to doing awesome skateboard/bike stunts to All complementing an awesome beach with pier and recreational areas including muscle beach. Venice Beach is simply a representation of the culture, uniqueness, and creativeness of L.A. and its residents! *5th most popular tourist attraction in L.A. county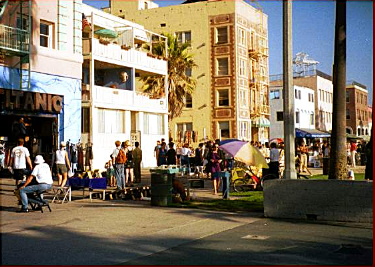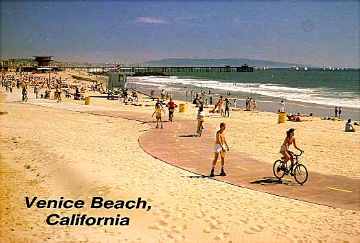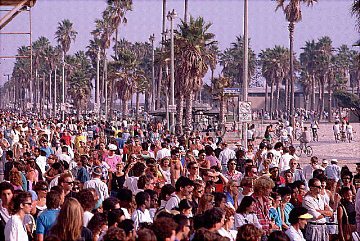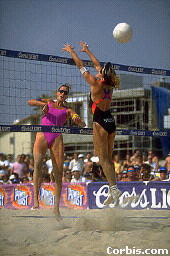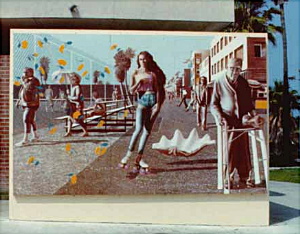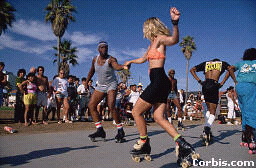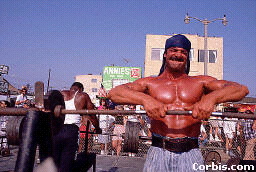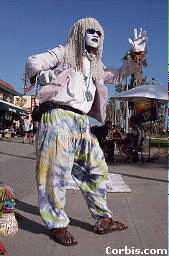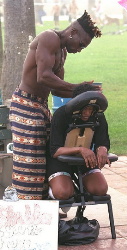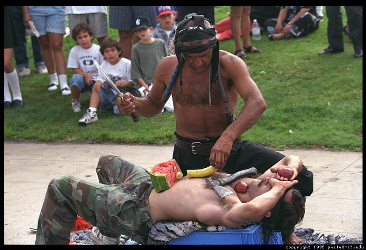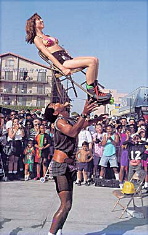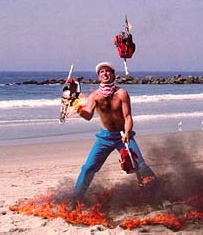 photo credits: corbis.com, Jeffrey Stanton, www.westland.net, Philip Greenspun
Universal CityWalk
A quote from http://www.dailybruin.ucla.edu/db/articles.asp?ID=824:
"Though technically not a street upon which cars can drive, Universal City Walk, located next to Universal Studios Hollywood, bills itself as "the coolest street in America." Much like an outdoor mall only with more to offer, City Walk is known as the perfect place to take a date.
There are several places to eat, such as Gladstones, a seafood restaurant; Hard Rock Cafe, which boasts a huge neon guitar in front; and Wolfgang Puck Cafe, a pizzeria. After eating, City Walk visitors often hit the Universal City Cinemas or the recently installed IMAX theater.
For a more interesting evening, City Walk now has its own rock 'n' roll bowling alley, Jillians Hi Life Lanes, as well as Wizardz Magic Club and Dinner Theatre which also has a spot on the street. At Wizardz you can dine while being entertained by various magicians. Coming soon will be the Rumba Room, a multi-level Latin dance club where you can get your boogie on. "

Rodeo Drive
*4th most popular tourist attraction in L.A. county
Rodeo Drive in Beverly Hills is world renown for having the worlds most expensive stores, being America's most famous shopping district. A lot of the rich and famous do their shopping in Rodeo drive. Rodeo drive has such stores like Armani, Gucci, Christian Dior, Coco Chanel, Ralph Lauren, ValentinoCartier and Tiffany, Magnin, Neiman Marcus, Saks Fifth Avenue, Yves Saint Laurent, & Pierre Deux. It also has the single most expensive store in the world: Bijan at 420 Rodeo Drive, which an appointment is required to shop there and most customers there spend around $100,000 in a visit. Anyway, its free of course for someone just to take a walk around this shopping district (except for parking of course).
Rodeo Drive is part of the Beverly Hills downtown "Golden Triangle" which itself as a whole is more than worth a walk.
Farmers Market
*16th most popular tourist attraction in L.A. county
Description from travelape.com:
"The Original Farmers Market in Los Angeles started in 1934, with a group of farmers selling their goods on an empty tract of land at the corner of Fairfax Avenue and 3rd Street. That small venture became a big success, and today it is a thriving open air market, selling fine meats and cheeses, and fresh fruit and vegetables. It has more than twenty places to eat, and a wide variety of food to choose from. In addition, Farmers Market has many shops that sell a large assortment of gifts, souvenirs, magazines, toys, clothes, handmade crafts, and many other items.
Essentially, Farmers Market is an outdoor marketplace, with rows of shops and eateries, some of which are family owned and operated, and have been handed down from generation to generation. Inside dining is available at some restaurants, while patios are furnished in several places throughout the Market for outside dining. Aside from the restaurants and stores, Farmers Market also has a pharmacy, a police station, a bank, and a post office. The Farmers Market is well known for the diversity and quality of food its restaurants and booths serve. Dishes from all over the world -- French crepes, tempura, shish kabob, gumbo, burritos and pizza are only a few of the dishes visitors will find there, as well as tempting desserts like English toffee, homemade ice cream and freshly baked pies, cakes and pastries. One of the best things about eating at Farmers Market is that it? easy to 'assemble' the meal of your choice. Take a main dish from one place, and go to another for a drink, then top it off with a dessert from some other booth. The food is good, the merchants are friendly, and the prices are reasonable.
Farmers Market is also host to many annual events, such as the Mardi Gras celebration and the Fall Festival as well as the Twilight Summer Music Festival and entertainment during the holiday season. Special foods, live music and even crafts workshops can be found at various places throughout the Market during those events, which are usually held on weekends."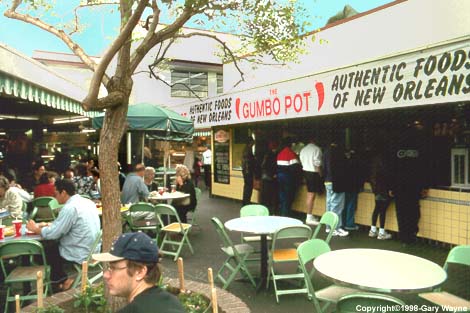 Melrose Avenue
This street is probably the hippest street in the U.S. This 2 1/2 mile stretch of Melrose Avenue has some of the funkiest shops you'll ever see anywhere. A quote from seeing-stars.com:
"Long before TV's "Melrose Place" hit the TV airwaves, there was Melrose Avenue, the real Melrose Avenue - one of the unique sections of the city which help define the L.A. experience. It's a funky, New Wave, walking/shopping/dining/ people-watching area which is, in turn, both bizarre and delightful.
Melrose is to the young, cutting-edge trendies of the West Side what Rodeo Drive is to their affluent elders, and what the Venice boardwalk is to LA's residual 60's counterculture: a place to shop, a place to stroll outdoors, but most of all, it's a place to see and be seen.
Melrose is one of the few genuine pedestrian neighborhoods in our City of Angels, and it is unique, with a quirky, slightly-demented personality all its own. It's a neighborhood trying desperately to be hip and outlandish, and succeeding wonderfully; a garish blur of day-glo and neon, of pierced noses and red Ferraris; row after row of eccentric, trendy little boutiques with gaudy storefronts done up in florescent colors, sporting curious names such as "A Star is Worn," "Humphrey Yogurt Cafe," "Warbabies," "Some Crust: the Bakery," "Retail Slut," and "Wacko".
Melrose also offers comedy clubs, night spots, one-of-a-kind nostalgia shops, and unusual stores selling records, books, Disney memorabilia, fine art, jewelry, and antiques.Melrose is home to some of L.A.'s hottest restaurants such as Citrus, Chianti, and Ago, as well as older establishments such as Emilio's.
People-watching is half the fun here, as curious tourists mingle with the black-leather-&-mohawk crowd. Unlike Rodeo Drive, Melrose isn't afraid to poke fun at itself, yet it remains on the cutting edge of fashion, dining and even home furnishings. Saturday afternoon is the best time to people-watch, when the trendy crowds are the thickest. (On the other hand, the avenue can be relatively deserted on Sundays.) "
See more pics around Melrose avenue at streetsoflosangeles.com
credits: picturela.com, corbis.com,goinggallery.com, streetsoflosangeles.com
Santa Monica Third Street Promenade
Santa Monica third street promenade is about three blocks in the heart of downtown Santa Monica, closed to traffic and filled with some of the L.A. area's best restaurants and clubs, and also is filled with many unique botiques as well as general mall stores (like Borders), as well as a theatre. But added to this is some great street entertainment, everything from live music to some good street performers showing off their talent from everything from singing to risky stunts to rappin tap dancing, etc... And there are always artists that line the streets outside showing off their work. This is definately one of the neatest places to come see first when coming to L.A.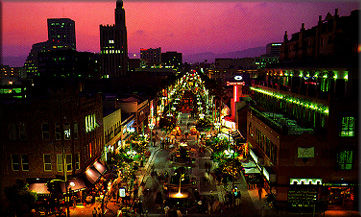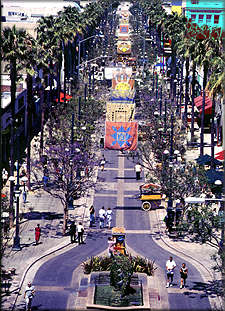 Go to L.A. attractions section page 2