L.A. SHOPPING
As in a lot of cities, Los Angeles's busiest areas for shopping are in malls. The Los Angeles area has some of the largest malls in the United States, such as the South Coast Plaza mall in Costa Mesa (20 million shoppers a year). But that doesn't mean that other areas are neglected. In fact, Los Angeles has an abundance of streets lined with shops, restaurants, and cafe's. Places like Melrose Avenue inspire the young and creative people with fashionable and hip stores, for instance. L.A. shopping definately is not for the ordinary.
L.A. MALLS
L.A. malls aren't really "just another mall". For one, Malls near or in Los Angeles aren't your standard "island in a sea of parking" type malls. A lot of em actually have massive 3 - 6 floor parking garages that are built to the side, under, or even on top of the malls. This gives them a dense urban downtown mall like look. Another thing, a lot of malls in L.A. don't look like your traditional mall. Malls like these in/around L.A. break traditional designs of malls found in other cities:
Santa Monica Place
Westside Pavilion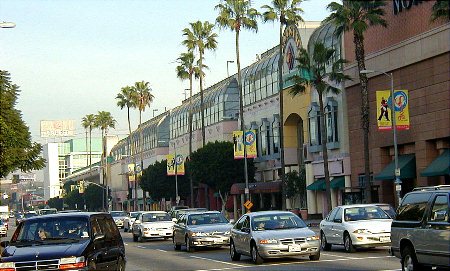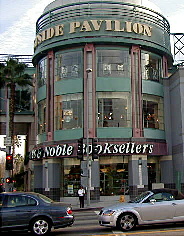 Beverly Center *20th most popular tourist attraction in L.A. county, click here for more info on it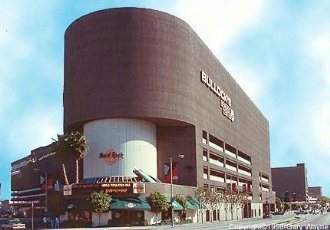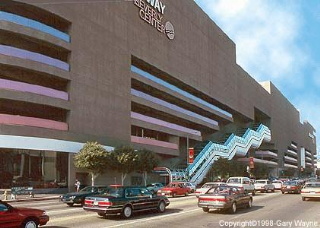 Metro Pointe
The Block at Orange
Irvine Spectrum
Century City Marketplace
Some malls are really HUGE, like the 3,000,000 sqft (128 acres) South Coast Plaza mall in Costa Mesa, that generates more than $1 billion in sales a year and about 20 million shoppers a year visit it. It has 9 anchor stores and about 300 of the most upscale shops in the nation (including 9 anchor stores, and such stores like: Gucci, Versace. Georgio, Sax Fifth Avenue, Christian Dior, Ralph Lauren, Barneys New York, Chanel, Calvin Klein, Tiffany, Hermès, Fred, Fendi, Emporio Armani and Cartier. )
Another huge mall is the Del Amo Fashion Center in Torrance, almost 3 million sqft / 90 acres big, with 371 shops and 7 anchor stores.
Check out pics of L.A. streetside shopping districts