A Glimpse of some of L.A.'s neighborhoods
VENICE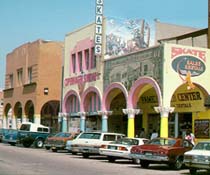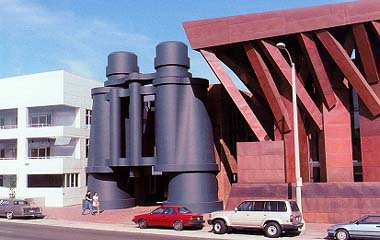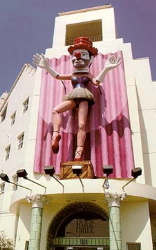 Koreatown
A quote from travelape.com:
For the Korean residents of Los Angeles, Koreatown, located in the city's midtown section, is the hub for cultural, social and business life. Repainted California bungalows, stores bustling with Korean foodstuffs and distinctive angular Korean calligraphy identify this dynamic area bounded roughly by Vermont, Pico, Eighth and Western Streets. From a modest population of less than 10,000 in 1970, the Los Angeles' Korean population has grown to an estimated 160,000 people, making it the largest concentration of Koreans outside of Korea.
Olympic Boulevard serves as the district's main street. Han'gul (Korean alphabet) signs indicating grocery stores, restaurants, barbershops, hardware stores, travel agencies, import-export firms and gas stations appear frequently along a three-mile stretch of this street. On a few blocks Hah'gui signs identify every establishment and many stores have been built or remodeled in the Korean style of architecture. The vibrant Koreatown community explodes in merry making during the annual Koreatown Festival. The fall event is highlighted by a parade complete with drill teams, marching bands and colorful floats in addition to street dancing, a food fair and demonstrations of the Korean martial art of tae-kwon-do.

Silverlake
Fairfax
Pico Union
Westwood
Century City
Melrose (in L.A. attractions)
NoHo (North hollywood)
Theatre/Arts district
North Hollywood is L.A.'s premier Theatre/Arts district, with over 25 live theatres in the district.
learn more about NoHo at Noho Arts district
East L.A.